About Us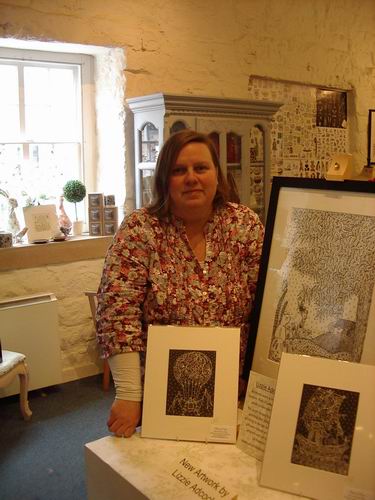 Arum-Lilie Designs is run by Designer Lizzie Adcock who creates gorgeous Giftware inspired by history and all Handmade in the heart of Derbyshire.
" Life began in the sunny seaside town of Worthing in West Sussex. My interest had always been in Fashion design. It started in middle school where I'd fill jotters full of faceless strange clothed ladies, and carried on to me studying a BTEC Diploma in Fashion Design at Northbrook College. From 1991-1994 I moved north and studied at Manchester Metroplolitan University, completing a Bachelor of Arts Degree in Fashion & Textiles.
Since graduating I have worked on many levels of the fashion industry from sample machinest to pattern cutting & designing. I worked for six years for high street manufacturers designing clothing from swimwear and leisurewear to sportswear.
Fed up with the increasing closures and loss of jobs within textile manufacturing within the UK, I decided it was time to start my own design empire, and in keeping it all handmade in England.
In 2001 Arum-Lilie Designs was born. I have always been inspired by history, and have enjoyed making costumes and taking part in living history events around the country. In my travels I have visited many Museums and historic houses, and always loved to see how things were made and the variety of techniques used. I really fell in love with the Elizabethan period, the sumptuous detail in their clothing you just get lost in the beauty of the workmanship.
The Arum-Lilie Collection has grown in many delightful ways over the last ten years and I am always thinking of the next project. Our Blackwork Collection of screen printed designs onto linen and silk has grown considerably from our first initial concepts, being able to design our own historically inspired prints and then make them up into products that will adorn any modern home is great, from framed prints to cushions, bags, lavender goodies and one off upholstered pieces. Our Stamped designs on sumptuous silk satin and velvets inspired by 1600 costume, are our luxury Collection of eye masks, jewellery pouches and lavender hearts. Our Pewter Collection grows each year from pendants and brooches to Christmas tree decorations. All of our designs are all inspired by history and handmade just for you.
Over the last four years I have been researching printed textiles and also portraying an 18th Century Block printer at Living History events. From collecting old Indian blocks we have also created our own designs on wooden blocks which are all inspired by 18th Century print. Again falling in love with a period of such revolution and change in the textile trade.
Over the years we have supplied into many shops with our handmade goodies, from Londons Shakespeares Globe, Fortnum & Masons, The V&A, Shakespeares Birthplace Trust, NTS Culloden Visitor Centre and many more boutiques around the country.
Our products have also appeared in magazines - House&Gardens, Homes&Gardens, World of Interiors, Inspirations & Selvedge to name a few.
I hope you enjoy our ranges of home accessories that will add a touch of historic design into your home."